How to take pictures with flowers?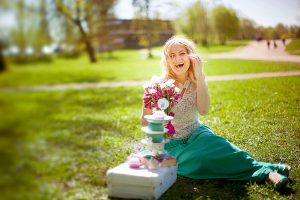 Beautiful fresh flowers are simply created for a photo shoot, so there is nothing surprising in the fact that a girl who received a bouquet as a gift immediately asks herself to take a picture or takes a selfie. Not all such shots are successful, so you need to know how to shoot this kind of shot.
To get beautiful photos with flowers, you need to choose a bouquet or the whole composition corresponding to the theme of the photo shoot
Flowers are the best decoration for photography
Features of a photo shoot with flowers
Flowers are a woman's jewelry, so their presence in the frame is one of the most frequent methods of both photographers and models. Indeed, when you do not know in which genre or theme to take a photo, it is enough to pick up a bouquet or one flower – and the problem will be solved.
You can take pictures with flowers in any position: standing, sitting, lying. When choosing a composition, you are guided by the image that you want to get: romantic and innocent or sexy and even aggressive. In the first case, it is better to choose wildflowers: cornflowers, daisies, forget-me-nots, or such lilies of the valley, daffodils, tulips, beloved and familiar to everyone.
Orchid will immediately focus on chic and luxury, and the tiger "will tell" about the temperamental temperament of the model. Roses – a classic option that can be used in all cases. Callas and lilies are suitable for a laconic photo shoot in cold colors, and dahlias or gerberas are ideal for cheerful and sunny girls.
When shooting with flowers, do not use many bright details.
A selection of accessories and clothing for the photo, optimal backgrounds for the frame
The main thing in preparing for such a photo shoot is not to go too far with the colors of outfits, accessories, and furnishings. The bouquet is already quite bright, so it's better to choose solid colors – pastel shades or to match the colors.
A "flower" photo shoot is good in one more respect: often a model does not know where to put her hands and simply stretches them along the body. A bouquet of flowers solves this problem, besides there is always the opportunity to "play" with it: bury your nose with flowers, toss them up, sit comfortably on a sofa or floor and just put it next to it.
It's not at all necessary to look into the camera's lens, it's better to turn your eyes to a bouquet at the moment of clicking, and let a slight half smile play on your lips. The most beautiful photos are those in which the model is depicted with flowers in her hair. Chamomiles, orchids or gerberas are ideal for this. And from field plants you can weave a wreath.
Floral wreaths are perfect for photo shoots.
Flower wreath for photo shoot. Flowers as the central element of photography
Some nuances of photo shoots with flowers
When taking a selfie or shooting a familiar camera with flowers, it's necessary to take into account some subtleties:
Brilliant makeup for a photo shoot with flowers will not work. Shadows and powder should be matte. And for better shots, it is recommended to sculpt the face, walking with powder of a dark shade along the cheekbones, chin, nose wings and upper forehead.
It must be remembered that the bouquet put forward will take all the attention to itself, leaving the model in the shade, so it is better to place it on the same level with yourself.
Finding the perfect pose is simple – just turn your back on the photographer, and at his command turn half-turn – and the successful shot is ready.
It's not necessary to smile forcedly and freeze in uncomfortable poses – you need to behave as naturally as possible, and when looking at the lens, remember something pleasant.
Remember that the light should not be too bright. The ideal solution is natural soft diffused light, and dark areas can be highlighted with a gold or white reflective disk.
In order for the frame to be clear and blurry at the edges, you need to shoot with a wide aperture, but the histogram allows you to emphasize the relief of the flower and display all its details.
With strong winds, it is better to shoot at very short shutter speeds, but if it is too choppy, it is better to transfer the shooting to the house.
Flowers are indispensable in a wedding photo shoot
Bridal bouquet, wedding photo shoot, flowers for a wedding bouquet
Features of a photo shoot with flowers need to be considered by both a professional photographer and an amateur. The model, before shooting, can experiment with poses and facial expressions in front of the mirror, choosing the best solution for itself, and then already appear in front of the photographer.
For a photo shoot of girls or couples in love, you must definitely use flowers: they will add a special charm to photos.