Autumn bouquets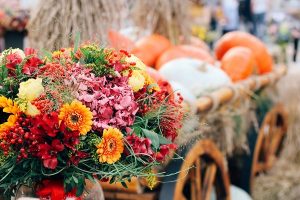 Autumn is a golden time, allowing you to enjoy a riot of colors, a wealth of aromas, an abundance of gifts of nature. This season is associated with harvesting, farewell to summer. Therefore, in autumn bouquets may be present not only herbs and flowers, but also berries, ears, fruits. Nothing restricts the florist's imagination when composing a bouquet: bright autumn is the best suited for experiments with paints.
Autumn bouquet – luxury of colors
Autumn bouquets are characterized by a bright color palette, the use of various shades of warm or cold colors
Features of autumn bouquets
Bouquets of autumn flowers are most often characterized by a lack of greenery. Green leaves or branches can only be contrasting elements, while the main emphasis in the compositions is bright colors. You can and should experiment with the texture of plants, unusual combinations of shades.
"Dull Time" is marked by one of the most important holidays of the year – September 1. For the Day of Knowledge, florists prepare original holiday items. Flowers for the teacher are a pleasant tradition with which you can tell the teacher about his warm attitude.
Autumn wedding bouquets are no less popular. Flowers of juicy shades, decorated with the use of leaves, berries, can become an unbanal decoration of a photo shoot. Crimson colors will perfectly emphasize the beauty of the bride, contrasting with a snow-white dress.
Autumn bouquet – farewell to summer
For seasonal bouquets, it is important to choose the appropriate colors: for autumn compositions, this will be a yellow-red gamut
The color scheme of autumn bouquets
To make autumn bouquets, florists strive to use the color scheme that most fully reflects the features of the coming season. For parting with warm days, shades of red and yellow, bouquets of orange flowers are optimal. These rich colors symbolize the golden age.
Seasonal flower present can be performed not only in bright elegant shades. For autumn floristic works, cold tones will also be appropriate. The main thing is that they are natural. For a bouquet, you can choose blue or purple, violet, cold pink.
Types of flowers for the autumn bouquet
Bouquets and compositions of autumn flowers will decorate any interior, will be a wonderful gift for a loved one, in addition to the present. Most often, seasonal flowers are used to create them: asters, garden roses and more. As floristic inserts, you can choose rose hips or bright clusters of mountain ash, viburnum, maple leaves, acorns, physalis and other materials.
Berries, rye spikelets are appropriate in the autumn bouquet
The florist must definitely use the gifts of nature in the design of the autumn bouquet – the resulting composition will benefit from the addition in the form of berries or fruits
Gerberas, chrysanthemums, callas and dahlias can also be used for floral arrangements. Bouquets with the addition of small-sized sunflowers look unusual. Such plants will certainly cheer you up.
As for floristic symbolism, when choosing a bouquet, you must listen to the following notation:
asters – according to an ancient legend, this flower grew from a small piece of a star falling to the ground. By their beauty, soft ball-flowers with needle petals are able to compete even with roses. They symbolize fidelity, love, modesty. And for autumn bouquets, you can choose asters of any shade: delicate pink, romantic lilac or yellow flowers similar to the sun;
gladiolus – a symbol of fidelity, friendship, nobility. With their help, you can talk about the constancy of feelings. For autumn composition, white, pink and scarlet gladiolus are suitable;
Chrysanthemums are extremely popular in autumn flowers, which are often chosen as a gift to young ladies. But lush bouquets of chrysanthemums are often bought by September 1 or Teacher's Day. These flowers personify the charm of youth, innocence;
dahlias – royal flowers, a symbol of the passing summer. In Japan, a bouquet of these gifts of nature means gratitude, greatness, dignity. A composition made of dahlias will surely appeal to lovers of beauty. For the autumn version, it is best to take a small number of flowers, because the buds differ in volume.
Asters are the best option for an autumn bouquet
Flowers similar to stars will be appropriate in an autumn bouquet of any size, you can use asters to decorate celebrations, wedding arrangements
Packing of autumn bouquets and compositions
For an autumn floral presentation, a great idea would be to arrange the composition in a basket. Such a stand can be supplemented with variegated leaves or rye ears, fresh berries, fruits, rowan branches. Given the diversity of autumn, you can safely mix paints, combine materials that seem at first glance not harmonious.