One day in the life of a courier Flora Express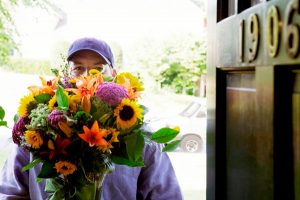 In some cases, the courier acts as a bartender. No, of course, he does not pour strong drinks, but performs other functions that are assigned to employees of entertainment establishments: to be a pleasant conversationalist and a little psychologist.
I am a courier for flower delivery, and these are stories from my life.
Fate
You have probably seen many times in movies or on one of the social networks ads like: "I'm looking for a girl, I saw him in the subway at such a station, she went there. Help me find – I fell in love! " Everything looks insanely romantic from the side, especially if these stories end with a happy happy ending.
As a rule, the courier only knows the delivery address and the name of the person who should be given the flowers. But sometimes there are situations when a client devotes us to some details so that we can adequately fulfill his order. So it was this time. Instead of the standard address and the name of the addressee, they gave me a little strange information: "Be at 18:25 at the Okhotny Ryad station and wait near the entrance from Tverskaya Street. Present a gorgeous bouquet of "Renaissance", consisting of gerberas, roses and other beautiful flowers. " I was prudently provided with a photograph of this girl and informed what she was wearing.
We will make any bouquet to your taste
We will make any bouquet to your taste
In this regard, there were several risks: a girl could take leave early from work, go with girlfriends to a cafe, get another road – and a huge number of scenarios. But exactly what happened happened, and I call it fate. Exactly at 18:28 our girl went down exactly where I expected her. Her enthusiasm for the unexpected gift knew no bounds, all the passers-by were clearly surprised and even a little shocked by the unusual situation.
It was only when I arrived at the office the next day that I learned the whole background of this story. It turns out that the couple met exactly a year ago at this metro station and at about the same time. Rather, I did not meet, but only met with my eyes. The young man still managed to find the girl he liked. The story of this couple is more reminiscent of a romantic melodrama, which ends with a marriage proposal with an unusual bouquet of flowers. For some reason, I'm sure that this is exactly what they had.
Red roses will always help to create a romantic atmosphere
Red roses will always help to create a romantic atmosphere
Some people attach great importance to the symbolism of flowers. No superstitious person will present a bouquet of yellow acacias or anemones, since these flowers mean separation and sadness. But camellias, mistletoe, evening primrose or red roses are the most relevant flowers for a person who wants to express sincere feelings. For those whose relationships are just starting to develop, gerberas, which mean flirtation and a smile, will be an ideal gift. Also a wonderful gift for a relationship that has just begun will be a bouquet of colorful and yellow tulips, which hint to the girl about her beautiful smile that illuminates everything around and beautiful eyes.
Red roses – always relevant flowers
Red roses – always relevant flowers
Love is above all
Of course, in my work, there are frequent cases when the addressee is clearly not in the mood or our client is very guilty, so that the flowers fly from the stairs or balcony. Yes, that happens too. But mostly positive cases remain in my memory; they return faith in the good.
It was a couple of years ago when I was just starting out at Flora Express. A young man turned to us with a request to deliver flowers to one person. He has the following story: for two and a half years he did not communicate with his ex-girlfriend, but his feelings did not cool down. He decided to remind himself a little. A simple, but insanely beautiful and delicate bouquet "Pina Colada" was chosen as a reminder.
The next day I went to deliver flowers to this lady. At the right time, I was on the doorstep of her apartment. Fortunately for me, after the bell I heard footsteps, and the door opened before me. She appeared – more beautiful than the creation I have not seen in my life. Big and very beautiful eyes, a sophisticated waist and a delightful, slightly embarrassed smile. I froze. I admit honestly – I forgot why I came.
Flower delivery anywhere and anytime
Flower delivery anywhere and anytime
When I already handed the bouquet and asked to sign it, the girl noticed that the flowers were not meant for her at all. It turns out that the one to whom the bouquet was addressed left this apartment about a year ago. Since our client did not communicate with her, he did not know this.
As I already said, then I was just starting to work as a courier for flower delivery, so I decided on an unusual step: I still handed the flowers to this address, and in the office I paid out of pocket. I could not leave this young lady without attention. The girl was impressed by such a step, and she gladly accepted the invitation to the cafe that evening.