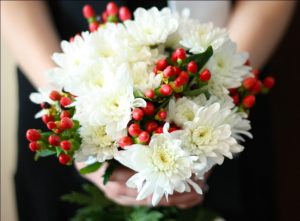 An original wedding arrangement, created by individual order by experienced florists, will draw the attention of the guests of the event. For the bride, the bouquet is one of the most important attributes, the choice or creation should be taken seriously. But if you decide to be creative, try to assemble the composition yourself – adhering to simple rules can easily achieve an excellent result.
Wedding bouquet of roses
DECIDING A VARIETY OF FLOWERS
You can make a bride's bouquet with your own hands from any flowers.
Since ancient times, the values ​​of common plants have come to us. Refer to the language of flowers – such a wedding bouquet for the bride will be the completion of the image and will bring special meaning to the ceremony. Continue reading →