SPRING BOUQUET FROM "A" TO "Z"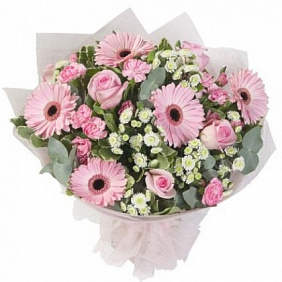 How to choose a spring bouquet in the store and how to make it yourself? In order to answer these questions you need to have an idea
about the flowers that grow at this time of year;
about what color scheme corresponds to it;
about the styles and accessories that florists use to create spring compositions;
about what zest can be added to the spring bouquet so that it plays with all the colors.
About all this with details and in order in our article.
WHAT GARDEN AND FIELD FLOWERS SPRING IN SPRING?
Garden flowers
In this section, we will talk about "cultivated" flowers that traditionally bloom in gardens in the spring. They are grown for sale in greenhouses for a whole year, but only at this time of the year can they be bought at a substantial discount. They form the basis of the spring bouquet. Most Russians are associated with the arrival of spring. The most common of them are tulips, daffodils, irises, lilies of the valley, hyacinths, mimosa, ranunculus, chamelacium.
The symbolic meaning of spring flowers
Tulips – love, change for the better, good mood;
Daffodils – pride, sympathy, joy;
Irises – victory, revenge, respect, veneration;
Lilies of the valley – a compliment to beauty, an invitation to rejoice in spring, good mood, attention;
Mimosa – cheerfulness, good news;
Ranunculus – terry buttercups, similar to miniature peonies, mean joy and happiness;
Hyacinth blooms in early spring in Greece and Asia Minor and means reconciliation, peace and harmony;
Lilies of the valley symbolize humility, purity, modesty and a return to happiness.
Hamelatsium is an Australian plant that resembles a wild-growing chamomile, symbolizes the flowering of feelings between people loving each other. Its stem is strewn with branches with a large number of flowers of white or pink hue. Sprigs of a flowering tree are associated with spring.
Wildflowers
Daisies Spring wildflowers are also able to give the bouquet the appropriate mood. Florists often use them in creating their compositions, combining wildflowers with garden flowers. Here are some of the "wild" flowers that are used in creating spring bouquets.
Tanacetum – spray chamomile with small flowers;
Bush clove
Tlaspi – a plant that will give the bouquet volume and airiness. It has many popular names – yarot, vertebra, splinter, penny, anchor, klopik, toad grass, broom, klopnik. In nature, he was met by many, but in the bouquet it is a rarity. With it, you can make a composition in the style of boho, provence, rustic.
Viburnum or viburnum will give the flower arrangement a saturated bright color, refreshing it with a juicy green tint. It blooms in late May. From roses, hydrangea and viburnum, you can get such an amazing tender green spring bouquet.
This is not the only example when flowers from the wild combine well with greenhouse ones. For example, a chamelacium can be successfully combined with ranunculi and peonies. The charming, miniature flowers of the chamelacium will serve as a wonderful addition to the bouquet, adding to it naturalness and grace.
SPRING COLOR GAMMA
Ranunculus Spring is the time for rich and vibrant colors. For a spring bouquet, flowers of yellow (mimosa, tulips), saturated blue (irises, hyacinth), pink (ranunculus) flowers are suitable. A good option is white, light purple, lilac. Several shades complemented by green look very nice together. These colors are included in the spring color palette.
Similar palette
Bouquets made in a similar way look very advantageously, that is, using colors of a similar palette. These are the colors located next to the color wheel. In this case, shades of different saturation can be used, complementing the composition with one dominant color. Here is an example of such a selection.
SPRING STYLE
There are two fundamental differences between spring bouquets and all the others – this is the ultimate naturalness and the absence of "heavy" dark shades. In this regard, spring bouquets
not decorated with accessories – bows, shells, beads, rhinestones, etc.
not "diluted" with dark greens, only bright, juicy, or light pastel leaves;
not complemented by dried flowers – this is the prerogative of autumn-winter options.
The shape of spring bouquets can be very different, for example:
European – these are small round bouquets;
in the style of Russian Provence – here the emphasis is on wildflowers and natural naturalness;
Japanese – in the style of ikebans, made in the tradition of minimalism.
Irises A lot in creating a bouquet depends on who it is intended for. For example, men's bouquets have an elongated linear shape. The basis of such a composition may be irises – these are traditional male flowers. Small round bouquets of pink, snow-white and blue flowers are suitable for young women.