Flower etiquette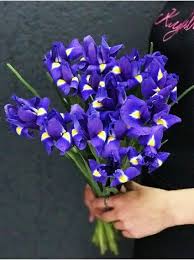 Rules come from the East
When choosing flowers and handing them, you should follow some rules, otherwise you can get into an awkward position. The homeland of these rules is the East. The fair sex, limited in communication and covering their faces with a veil, tried to express their feelings and shades of mood with the help of flowers.
For example, according to Eastern tradition, it is important how the girl acted with the flower presented by the young man. If she pinned him to his chest in the region of the heart, this is a sign of love, and if to his hair, then you should not hope for reciprocity.
The associations that have arisen over time have become stable and formed the basis of the science called flower etiquette. Travelers transferred this knowledge to Europe, where they supplemented and developed. Some of them have been lost, but a considerable part has survived to our time.
Universal gift
It is best for young girls to give not bright red roses, but gentle shades of gerbera, tulips, lilies of the valley. Older women fit orchids, lilies, chrysanthemums. For ladies in the age, dark flowers are not suitable and those that quickly fade, for the elderly, flowers with long stems and also light colors are appropriate.
The opinion that flowers are given only to women is wrong. They will be happy and men. Traditionally, male plants are gladioli, and chrysanthemums and roses are appropriate. It is only necessary to take into account that the bouquet should contain flowers of the same species. On February 23rd or another military holiday, the best option would be white or red carnations.
Flowers are given not only to adults, but also to children. Of course, gorgeous roses or solemn gladioli are not suitable for them: boys and girls are arranged with small colorful bouquets of medium-sized flowers, the price of which can be quite small.
What to consider when choosing colors
A single rose or daisy can sometimes tell a loved one more than the abundance of flowers in a chic package. In solemn occasions, give, of course, a bouquet that can be ordered in the online store. The number of copies is odd, but this only applies to the number of flowers up to a dozen, from above – it can be any. Both reason and gender, degree of closeness, age, social status of the gifted person and some other nuances are of importance.
For official meetings, bouquets are most appropriate, the red and orange colors of which are a symbol of a friendly arrangement. For wires to retire give red, embodying the vitality of roses.
It is also customary to go for housewarming with flowers, but best of all with potted ones. When visiting a patient, do not carry, for example, lilies that have a pungent smell, or bulky bouquets that can occupy most of the nightstand. The best option is a gentle, small-sized plant with a cheerful color.
How to hand flowers
Unpack the flowers before delivery, if they are wrapped in plain paper, but if the packaging is beautiful and spectacular, then give them without unrolling. Hold the bouquet in your left hand, and the right should be free to greet. If a couple goes to the celebration, then the man should give, however, the woman should carry the bouquet or basket along the street.
Whatever a fragrant gift is intended for, it is usually given to the hostess of the house, and do not forget to accompany the gift with warm words and a welcome light bow. If you order flowers in the store, be sure to attach a wish card or your business card to them.
How to take flowers
If the selection of flowers and their presentation can be called art, then the reception of such a presentation is no less significant art. First of all, thank the giver and, if possible, express admiration for his taste. Wrong is the one who puts the bouquet aside and, moreover, takes it out to another room or to the balcony. Flowers should be freed from packaging and put in a vase in a prominent place or, if it will not block the faces of guests, on a table: contemplation of such beauty will cheer you up!
When receiving several bouquets, pay attention to each: unpack and arrange in vases. An exception can only be flowers brought from the cold – they need to give time to get used to the heat and not immediately remove the packaging.