Precious flowers: flower-shaped jewelry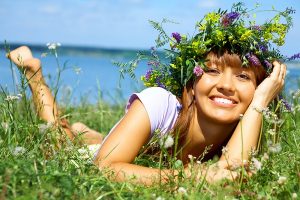 Jewelry is real magicians, any girl knows this. After all, even a casual look, consisting of jeans and a T-shirt, can be transformed using beautiful earrings or a pendant. Each woman chooses jewelry depending on her mood: strict geometric shapes emphasize strength, confidence, but floral motifs focus on romance and tenderness.
Floral decorations in different cultures
The main jewelry for girls is not diamonds at all, contrary to popular belief. The main "friends" of girls in many cultures at any time were flowers. From ancient times, girls decorated their hair, wove wreaths, hung flower garlands around their necks.
In Russia, a flower wreath was considered a real amulet, so the interwoven flowers were carefully selected
The tradition of weaving wreaths appeared on the feast of Ivan Kupala. The girls wondered on wreaths, lowering them into the water: if he swam quickly with the flow, then there will soon be a wedding. Weaving a wreath is a real science. Not only colorful wildflowers were used, but also herbs, ears, ribbons – all to emphasize the beauty of the girl. In this case, the flowers had a certain meaning. Mac protected from the evil eye, chamomile emphasized youth, and cornflower meant modesty.
In Hawaii, for example, there is another tradition. The islanders give their guests and friends flower garlands, in other words, lei. It is extremely honorable to receive Lei as a gift. It can mean friendship, love, affection, a benevolent attitude. Not a single holiday is complete without garlands. They give them to various joyful events: wedding, birth. In this case, lei should in no case be removed in the presence of the person who gave it to you.
Rare flowers and unusual elements woven into lei show a special attitude of the donor
Meanings of colors in jewelry
Flowers carry a strong energy. They can emphasize the character, talk about feelings. We may not even think about their symbolism, choosing a new decoration with floral motifs, but subconsciously we still strive to convey our mood with their help.
For example, white flowers like lily of the valley, lilies, water lilies mean purity, tenderness, innocence. A graceful orchid personifies femininity, and a peony – love, good luck. Violet is a symbol of modesty, and a magnificent tulip – pride. The lotus symbolizes happiness and long life.
Unfortunately, the flowers, although beautiful, are short-lived. However, there is a solution – at present, jewelry in the form of flowers is very popular. The theme of nature has been central to the fashion world for the past few years. Floral patterns cover dresses, skirts, lipstick cases, perfume bottles. Jewelers support designers and perpetuate the beauty of fragile petals in jewelry with floral motifs.
What are the decorations in the form of flowers?
Jewelry. Recently, jewelers have been trying to diversify the familiar classic patterns in their jewelry and are actively using floral themes for this. For example, silver earrings and rings in the form of flowers, covered in black enamel and decorated with pearls, look exquisite. Diamond chips can adorn luxurious roses of red or white gold.
Delicate daisies made of gold will add lightness to the official style
Delicate daisies made of gold will add lightness to the official style
Bijouterie. A more affordable option is jewelry with floral motifs. The fantasy of designers is truly endless: from elegant rose earrings to massive feminine necklaces. Necklaces consisting of several flowers or buds located on silk ribbons can be real masterpieces.
Floral motifs are well suited for delicate bride jewelry.
Homemade. It is not at all necessary to buy jewelry in the form of flowers. They can be made independently, for example, from polymer clay. On the Internet there are many video tutorials detailing the manufacturing process. This saves you from having to look for a suitable option for a long time. You can make earrings in the form of delicate crocuses, luxurious peonies and much more.
Clay flower arrangement can be complemented with elegant twigs or leaflets
Separately, it is worth mentioning about jewelry for which real flowers are used. They are dried and coated with a protective layer. Special jewelry resin gives the product high durability. Natural flowers can combine with various natural stones, and chains are most often covered with gold plating.
Jewelery made from fresh flowers cannot be wiped with alcohol and acetone: this will ruin the resin